Hi,
I'm Kate, and I know you've got a lot of complicated feelings about your big day.
I know you're excited to marry your best friend, but for some reason it doesn't feel that simple.
Between making a budget…
The size of your bridal party…
Dress shopping…
And where to sit Uncle Keith. Everyone knows he's a wild card, and we want this thing to stay classy!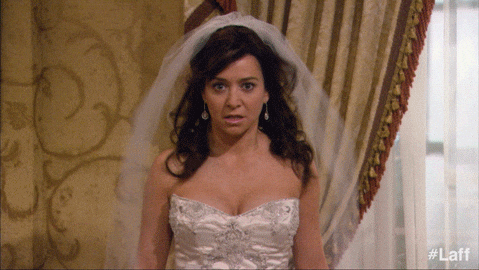 I'll be honest, when I was planning my wedding, it felt like there was a lot of drama.
I was getting upset a lot, and not even with things that mattered. Like when my fiance (now husband…hi Tim!) went through our cake tasting and just stress-ate all the cake lol. I still give him grief about that.
The thing is: planning my wedding was stressful as heck, and I'm a freakin' wedding planner.
For a little under seven years, I worked in the event planning space, and I eventually took on an assistant/ mentorship role with a popular wedding planner.
Working with my mentor, we created a step-by-step guide we would follow to make sure that when our bride called, we had every answer to even the smallest questions.
So when I had my wedding, I figured, pshhh, I got this.
I literally had a step-by-step guide to help me and I was still freaking out.
So I know how you feel. And it's natural and normal, honey.
I'm here to help you, and while I can't take away some of that pit-in-your-stomach nervousness that comes with putting together a wedding, I've walked hundreds of brides through the process of building the best day of their lives.
And I've actually taken everything I learned from event planning and the wedding planning business and put it into the Overnight Wedding Planner: Your Step-by-Step Wedding Organizer to Pull Off Your Best Day Ever with No Surprises.
The Overnight Wedding Planner is exactly what I would use when I was professionally planning a wedding (except it's better because it's actually organized now, lol).
Honestly, probably the biggest benefit of having a wedding planner is that they already know what questions to ask.
And they can coach you through what to ask your photographer, what to ask your caterer, what to ask the wedding venue…
They've done it a hundred times, but you only get one shot at it.
All those questions—all the experience from hundreds of weddings—are in the Overnight Wedding Planner.
Plus, you get every checklist I used, vendor forms, budget formulas, contact logs—literally everything you need to feel like you're working with a wedding planner without actually working with a wedding planner.
Most importantly, I want you to enjoy your life up until the wedding. I've seen too many brides cry their eyes out and worry away their whole engagement…you only get one, and life is too short to waste it.
I love the feeling of watching a bride walk down the aisle. Usually, that's the point where all their planning and worry and effort sort of just melts away.
I want you to feel that right now.
And that's what BecomingWed is all about.
I started this site so you can feel confident through the planning process and avoid making your engagement something you'd rather not think about.
After your wedding, I want you to look back at all the fun things you got to do during your engagement (like the first time you call him your "fiance"…weird, lol) and not just think about all the stress.
I'm excited for your big day. You've waited a long time, and now it's just a matter of ticking a few boxes to make sure everything's lined up for the wedding.
It's going to be easier than you think. I've got you.
Love,
Former Wedding Planner. Wife. Dog mom. I want to help you have the best day of your life by taking what I learned over 7 years planning events and weddings and turning it into actionable guides so you can plan that once-in-a-lifetime wedding day and feel confident like you've done this before.